Press Releases
The European Green Deal: What is the role of hydropower?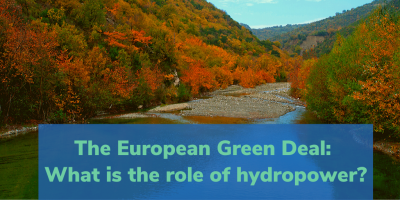 A series of articles introduces experts opinion on the current issues of the hydropower sector. Prof. Dr. Anton J. SCHLEISS and Dr. Jean-Jacques FRY, explain how hydropower is shaping the energy transition in Europe.
Hydropower has already an important role today and will become even more important in the next decades since hydropower can be a catalyst for the energy transition in Europe, Anton begins with. Most of the professionals of the hydropower sector think that hydropower will be one of the most crucial pillars of the future electric system, Jean-Jacques agrees. Hydropower will be required for the full integration of renewables and the grid regulation thanks to its high qualities of flexibility and storage.
The ambitious plan for the energy transition in Europe seeks to achieve a low-carbon climate-resilient future safely and cost-effectively serving as a worldwide example. The key role of electricity will be strongly reinforced in this energy transition.
In many European countries, the phase-out of nuclear and coal generation has started with a transition to new renewable sources comprising mainly solar and wind for electricity generation. However, solar and wind are variable energy sources and difficult to align with demand. Hydropower already supports the integration of wind and solar energy into the supply grid through flexibility in a generation as well as its potential for storage capacity. These services will be in much greater demand to achieve the energy transition in Europe, and worldwide. This will require a more flexible, efficient, environmentally and socially acceptable approach to the increasing hydropower production to complement wind and solar energy production.
The effect of climate change will not only change the availability of water resources in time but also change the behaviour of the catchment areas by an increased sediment yield and more frequent natural hazards, and thus considerably endangering hydropower production shortly. Reservoirs of hydropower plants will have to contribute more and more to the mitigation of climate effects.
How can hydropower bring benefit to the European Green Deal?
Hydropower exports European technologies and services. Europe has long-term experience with design, construction, operation and maintenance of hydropower schemes, with refurbishment projects and concession renewals. The know-how of the European industry comprising manufacturing, engineering and consulting is strongly recognized worldwide as a guarantee of quality.
It is the most preferable source of energy or at least a powerful and efficient vector for global decarbonization. Hydropower is a climate-friendly technology preventing (lowest release of CO2) and mitigating (water storage) the impact of global warming and climate change. In the framework of the European decarburization strategy, it is playing a double valuable role: hydropower produces clean energy and its flexible generation strongly contributes to balance the frequency of the power network and ensuring grid safety, thus fostering the deployment of intermittent renewable energy sources. There is still a considerable sleeping untapped potential waiting for sustainable development.
Hydropower is well suited to support the power network with flexibility and storage (characterized by the lowest Capex). HP increases new renewable energies penetration (solar, wind, hydrogen); emerging research fields will reveal its potential roles in energy transition and will result in opportunities for new developments, especially for small hydropower. Hydropower increases the storage capacity both in the short and long terms; the investment in hydropower will be considered as a safe value in the long term.
It also provides local investments, jobs and economic regional development (taxes, water management, public infrastructures, water conveyance structures, tourism, water sports) and has low technological risks and very long life operation time based on more than 120 years of mature experience.
About the authors
With more than 40 years of experience, Prof. Dr. Anton J. SCHLEISS is regularly involved as a consultant and expert in large water infrastructures projects including hydropower and dams all over the world.
Worked for 37 years for one of Europe's largest hydropower utilities, EDF, Dr. Jean-Jacques FRY has participated in numerous studies of hydroelectric projects with expertise mainly in structures and more particularly dams and geotechnical problems of structures.
Latest News
Upcoming Events