Latest News
On the 24th - 27th of February 2021, INCOLD hosted a Symposium on the Sustainable Development of Dams and River Basins. Even though the symposium took place in New Delhi, many participants joined online. The programme of a 4-day symposium can be found attached.
During the plenary session, Anton Schleiss took the opportunity to present the HYDROPOWER EUROPE Forum with a talk entitled Hydropower and dams as a catalyst for the energy transition in Europe.
On the 19th of January 2021, over 20 representatives from non-governmental organisations met together with the HYDROPOWER EUROPE Forum to address the environmental and socio-economic challenges that European countries are facing at an online roundtable.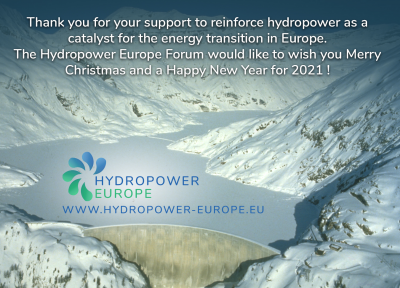 Thank you for your support to reinforce hydropower as a catalyst for the energy transition in Europe.
The HYDROPOWER EUROPE forum would like to wish you Merry Christmas and a Happy New Year for 2021!
Abstract Submission - Deadline Extension
The HydroES 2021 abstract submission deadline has been extended to 7th December 2021.
The management team of Hydropower Europe project represented by Anton SCHLEIS, Lead of Hydropower Europe, and Jean-Jacques FRY, President of the European Club of the International Commission on Large Dams (ICOLD), participated in the workshop connecting European hydropower projects.
On 12th and 13th October 2020, over 160 hydropower industry, civil society and policy representatives met –to answer technical, environmental and social challenges for hydropower as a catalyst for the clean energy transition in Europe at a HYDROPOWER EUROPE online event.
Hydropower experts have combined their knowledge to publish an 87-page document detailing the current state of the art in hydropower technologies and techniques. This review establishes a baseline reference from which future R&D actions are being developed and prioritised.
Registration is now open for this unique online event, which is scheduled for 09:00-12:00 on 12th and 13th October 2020. Participation is free of charge.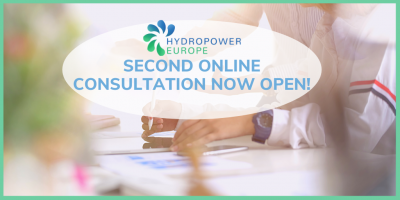 HYDROPOWER EUROPE launched its second online consultation programme at the end of July, which aims to establish priorities for the proposed research and innovation actions identified within the two main documents: the Research & Innovation Agenda (RIA) and the Strategic Industry Roadmap (SIR). Register on the Consultation Platform before the end of October 2020 to participate and help steer the future of hydropower in Europe.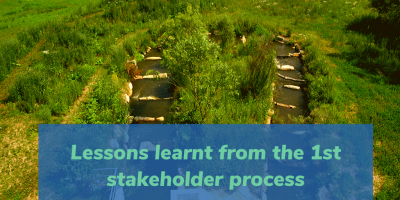 HYDROPOWER EUROPE Consultation Expert Panel gathered feedback received from the first wider stakeholder process in order to provide the recommendations concern the Research and Innovation Agenda (RIA) and Strategic Industry Roadmap (SIR). The first wider stakeholder process included the online consultation and the three regional workshops which were held during summer and autumn 2019.