Press Releases
HYDROPOWER EUROPE invites you to the European Conference on Access to Risk Finance for Clean Energy Technologies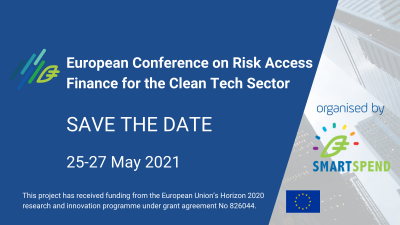 HYDROPOWER EUROPE, a partner of the SMARTSPEND event European Conference on Access to Risk Finance for Energy Transition, invites you to the conference which will be held on 25 – 27 May 2021.
This high-level conference is an opportunity for energy research and industry, private financing providers and EU policymakers to exchange views about how to finance efficiently the clean energy transition.
The event aims to:
Showcase the EU's funding and financing offer for clean energy demonstration projects;
Give space to private financing providers to present their involvement in new energy technology;
Provide the possibility for both energy projects developers and finance providers to meet during a match-making event.
The event is looking to involve funding experts as consultancies that can advise technology solutions providers about funding opportunities that exist for the solution they are willing to promote. Over 150 participants are expected to take part at least.
Latest News
Upcoming Events