Press Releases
HYDROPOWER EUROPE contributes to IEA Hydro activities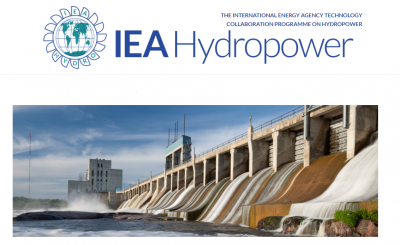 HYDROPOWER EUROPE regularly participates and contributes to the IEA Technology Cooperation Programme on Hydropowerhydro activities. The IEA Hydro is a working group of International Energy Agency member countries and others who have a common interest in advancing hydropower worldwide.
IEA activities provide input for the preparation of HPE's main outcomes, namely the Research and Innovation Agenda (RIA) and the Strategic Industry Roadmap (SIR).
Overview of the activities
In November 2019, IEA released a white paper on Flexible hydropower providing value to renewable energy integration (Annex IX). The experts from the HYDROPOWER EUROPE consortium gave several detailed editorial comments on this white paper.
In June 2020, HPE participated in the workshop Valuing hydropower flexibility in evolving market.
In the IEA Hydro Annex IX meeting in September 2020, HPE had an opportunity to briefly present the goals and state of work of the HYDROPOWER EUROPE Forum. Regarding the report on Flood control and draught management, the coordinator of Forum, Anton Schleiss, provided a case study from Switzerland (MINERVE flood forecast system).
In February 2021, Anton Schleiss was invited to participate in the kick-off workshop for the ANNEX XVII- Measures to enhance the Climate Resilience of Hydropower. Two tasks were proposed namely, Task 1: Countermeasures to mitigate damage to hydropower plant facilities caused by extreme floods and Task 2 Reservoir sediment management as a risk mitigation countermeasure against flood damage. Knowing that hydropower plants and dams are designed to withstand even extreme floods according to international safety concepts, for Task 1 he recommended first to define and describe the new hazards which are triggered by climate change. This is important to find appropriate countermeasures. Furthermore, for Task 2 he also suggested defining and describing first the processes which are triggered by climate change and will increase sediment yield. The countermeasures should be concentrated on these new or enhanced processes to focus on Task 2. To treat everything related to reservoir sedimentation would be too wide and copying existing knowledge only.
HYDROPOWER EUROPE is planning to engage in further activities with IEA.
Latest News
Upcoming Events